We were just saying in the office the other day this has to be our busiest year by far! We have travelled far and wide this year and we all agreed we couldn't believe how fast this year has flown by. We love how we have regulars now who come back to us time after time and Saturday was a regular called Bob.
Bob is ex army and loves to entertain and whenever he does it is hog roast Leatherhead he calls upon to cater. This Saturday he was having a get together with his ex army chums for a little pre Christmas celebration and we love visiting his wonderful home as he lives on a farm. When we arrived Bob was full of his tales as usual and we set up our machines in his converted barn, which is now his 'games room' as he likes to call it.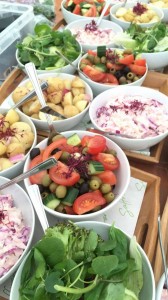 Catering for seventy five with our hog roast Leatherhead and we brought with us a nice brisket of beef. As the meat cooked we dressed the tables and set out our finest table wear as usual and then covered the tables with an array of salad vegetables such as lettuce, cucumber, tomatoes, spring onions and then set about making some dressings. We brought with us lots of fresh buns and wraps and a lovely poached salmon dressed in cucumber a feat fit for a king! We placed the huge cheese board on the table with an assortment of cheeses and crackers for the guests to nibble on whilst the meat was cooking.
As the guests arrived they crowded around us and watched as we carved the beef it cut like butter and the guys were all saying how their mouths were watering at the sight of the meat. We plated the meat on servers and the guests were keen to tuck into the hog roast Leatherhead. Bob couldn't thank us enough and he said that we never fail to impress. We had a lovely time with the guys and we never tire of hearing their army stories. We headed home tired but happy and ready to prepare for our next event- no rest for the wicked we always say!