On Sunday we were catering for yet another Christening with a hog roast Lightwater! Christenings are now very popular on a Sunday and we really enjoy catering for them. We were asked to cater for one hundred guests and a lot of food was ordered for the day, there is no effort involved as our magnificent machines do all the work for us its simply a case of placing the meat on the machine and waiting for the hog roast Lightwater to be ready.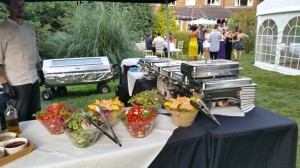 We arrived early morning and once we unpacked we placed the chicken on the machine to cook along with the chickens we were cooking duck to and once the meats were cooking we began to lay the tables and prepare the rest of the hog roast Lightwater. We brought with us some salmon and dressed the salmon and placed it on a large server more than enough to feed one hundred. We also chopped sliced and diced a mountain of salad materials and placed them in large bowls and mixed some dips and dressings. The customer had requested some strawberry tarts too which we baked fresh early that morning along with the buns we bake everything fresh on the day.
When the guests arrived we had just finished the cooking we shredded the duck and chicken and placed the meats into huge metal heaters to keep the meat warm, the smell was incredible and lots of people were commenting on this too. We started to feed the hungry guests and they were more than ready for their lunch the baby was as good as gold and slept the whole time. We left a bundle of menus for the other guests and they were all very keen to take one and a few of the guests came over and asked how we were fixed for the next month and if we could possibly cater for them we said we could and told them we would contact them to finalise the details. The day was really good and everyone enjoyed the food that is what we love to see when we finish an event- clean plates that is one of the biggest compliments anyone can give us.