Hog Roast Dorking is highly flexible and adaptable when it comes to catering, as we have plenty of experience of all kinds of parties and events, both formal and informal, and in many different locations. We cater wedding receptions, corporate functions, christenings, school fetes and so much more, as these days a hog roast is suitable for any celebration or commemoration that you're organising. Long gone are the days when a hog or spit roast was only for the rich and royalty and here at Hog Roast Dorking, we have various packages for varying budgets, and we're sure you'll be surprised at how economical it is.
Just recently, we were asked to cater a 30th birthday party in a customer's back garden. For Jay's milestone celebration, he asked us to cook a centrepiece hog that we would make into delicious pigs in buns for him and his 20 guests. Our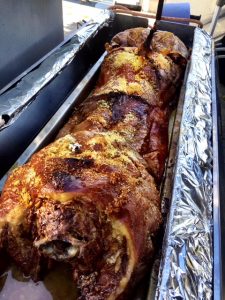 pigs in buns start off as high-quality, local meat that we source from trusted farmers and butchers that we've been using for many years. We prepare and cook it on-site at your chosen venue, carefully scoring it all over and adding plenty of water and salt, the former to keep it moist and the latter to produce that gorgeous crackling that everyone loves. Once done, we set the temperature low and slowly roast the hog for several hours, until juicy inside and crispy on the outside. It needs a little rest before we carve away, but once we've done that, we fill fresh floury bread rolls and wraps with pieces of meat and crackling, add a dollop of our homemade duo of apple sauce and sage and onion stuffing and show the guests where the condiments are in case they want to add some sauce to this slice of meaty heaven.
The English summer is in full swing, though that doesn't guarantee sunshine of course, but on Jay's birthday, we would take along our trusty gazebo to shade us either from the sun or a rain shower. We arrived hours before service to prep and cook the hog, and before we knew it, it was time to serve Jay and his guests a scrumptious Hog Roast Dorking speciality, and the weather stayed perfect for it.