In order to be the successful caterers that we are here at Hog Roast Cobham we need to have good quality, trustworthy equipment. That is why we design and manufacture all of our own machines that we use day in and day out ourselves from our little factory in the North west of England! We do this because we are passionate about hog roasting and know that most of the hard work is down to the machines. Therefore, we ensure our Hog Roast Cobham  machines are nothing but top quality and that they are more than up for the job, we can rely on them to produce perfect results time and time again!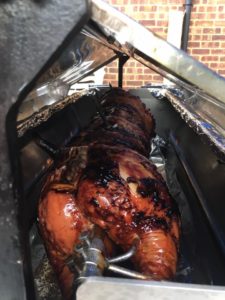 One of the perks of designing our own machines is that we also sell them to the public and caterers alike. People are often surprised to learn how wide our range is as we have a machine to suit all your needs. Whether you are a professional caterer in need of a robust machine that can cook enough for a couple of hundred guests, or you are a hobby caterer looking for something to suit you and your families Sunday roast – we really have the machine for everyone!
This week we were contacted by Sally who wanted to purchase a machine for her own catering business. She told us she regularly catered at weddings so was looking for a Hog Roast Cobham machine on the larger side but one that was still easy enough for one person to use by themselves. We knew immediately to recommend the Titan. This is a beast of a machine and with its dual roasting trays and attachments is completely versatile and can be used to cater for any number of guests. As always, we invited Sally to first visit our factory and get a feel for using the machine as we know most people will be unfamiliar with an investment such as this. Sally booked in to see us next week and we are sure she will be thrilled with her choice of machine!