Hog Roast Egham catered Joshua's birthday party over the weekend, where we cooked up a storm in his parents' back garden, providing a feast for all the senses and tastes that just couldn't be beaten. When it comes to cooking a traditional hog roast for our customers, we do so from scratch on the day of your party or event, using fresh, high-quality meat that we source from trusted local farmers and butchers, and we roast away for several hours on end, until we get a browned outer, full of salty crackling, and tender and moist insides, with meat that just falls off the bone.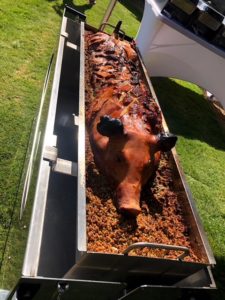 Whether you are thinking of us serving plates of pork, crackling, apple sauce, stuffing, seasonal vegetables, potatoes and our homemade onion gravy or piles of our pigs in buns, we lovingly prepare, cook and serve our hog roast in the same professional manner, regardless of the formality of the occasion that you're celebrating or commemorating.
Hog Roast Egham is often asked to cater weddings, corporate functions and many kinds of private parties, and the latter includes birthdays, and when Joshua asked us to cater, it was after he had enjoyed one of our centrepiece hog roasts at a friend's birthday party, and he knew our pigs in buns would be perfect for his own 21st. Helping you to celebrate a milestone like this with tasty, quality food served to you and your family and friends is what we do, and we've not only perfected our hog roasts for this but many other types of food too, so when Joshua also asked us to provide a vegan option, we told him all about our various possibilities and he decided on our veggie skewers, without the halloumi.
On Saturday afternoon, our Hog Roast Egham chef and catering team had a great beast sizzling away slowly for an age in the back garden venue, and they watched over it as it did. Later on in the day, we added mushrooms, courgette, tomatoes, red onion and mixed peppers to skewers and grilled them for the vegan guests, prepared all the trimmings for the pigs in buns and then by 6pm, it was time to serve.