For Alana's 30th birthday that we catered earlier this week, she asked us to provide our delicious, sumptuous hog roast Newchapel for around 35 guests. We can cater for just about any number of guests that you have in mind, whether that happens to be a small or large amount. We've catered for a handful of people as well as thousands of guests, so don't worry if you feel you have too few or too many – in our eyes, you can never have too few or too many guests!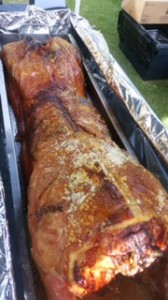 We turned up nice and early at Alana's house on the day of the party, as roasting a hog takes several hours. First, we need to prepare the meat by scoring it, adding water and salt, and then it takes around an hour to cook every 10kg. For this medium-sized pig of around 50kg, which was requested by the birthday girl even though it could actually feed around 120 guests on a disposable plate, it would take a good five hours of cooking once the meat had been prepped. The leftover meat would be put to good use, as Alana was happy for her guests to take some home to chill or freeze and she would be using some up herself in the near future, too.
Once the chunky hog roast Newchapel was roasting away under the gazebo in Alana's garden, we just needed to keep it under observation. During this time, the guests started to turn up and there were many comments about the wonderful smells wafting around the neighbourhood. Some of Alana's neighbours turned up to enquire about the delicious aromas and were invited to join the celebrations – there was plenty of food, after all!
Once the hog was done perfectly, it needed to rest for half an hour, so we got on with slicing the fresh bread rolls and putting out our homemade apple sauce and stuffing and a selection of condiments. Our team had a great time serving the jolly guests and helping to make Alana's birthday a great success. After stripping the hog clean and leaving the excess meat in trays, it was time for us to discreetly clear away and head home after another successful hog roast Newchapel!