The sun is shining, the beers and gin are being enjoyed, the pool is filled, the only thing missing is delicious food! Spring has arrived with a blossom of colourful flowers and birds tweeting, with the first sightings of bumble bees and wasps. Summer is right around the corner and with what looks like the light at the end of the tunnel when it comes to covid, why not treat yourself to a Hog Roast Newdigate BBQ menu?! Summer is the perfect time for a BBQ and what is even better is that you let someone else endure the hassle of it all while you sit and enjoy the reunions with all your family and friends.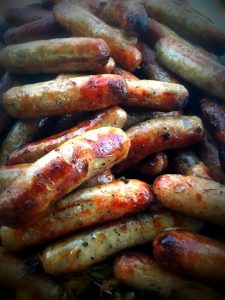 Hog Roast Newdigate will turn up and set a gazebo up in your garden to serve from with the smells of 100% British beef burger and gourmet sausages sizzling away on the BBQ making your tummy hungry and your mouth drawl. Hog Roast Newdigate will take care of everything, you don't need to make side salads, it's already included, you don't need to think about sauces, Hog Roast Newdigate brings a selection, you don't even need to put bowls of crisps out as chips are included. They have you covered.
Indulge in tender BBQ spareribs and succulent chicken kebabs as well as your traditional BBQ meaty items homemade beef burgers and sausages, both as flavoursome as the other. The sausages tend to follow Lincolnshire or Cumberland flavourings, however on request Hog Roast Newdigate is happy to do some smoked paprika sausages or even Spanish sausages following a similar taste to chorizo. The chicken kebabs are usually marinated in a Cajun or zesty spice and made up with vegetables, usually peppers and sometimes mushrooms.
Enjoy side dishes of fresh Greek salad and crunchy coleslaw, prepared for you on site. Enjoy a salad of juicy plum tomatoes, cucumber, sliced red onion, a mixture of olives and chunks and crumbs of feta cheese. The Greek Salad is finished with a drizzle of extra virgin olive oil and cracked black pepper and sea salt.
Choose between normal and sweet potato chips or medley of both! Fried on site to ensure. Crispy exterior and a fluffy interior.
All of this mouth-watering food is served on bamboo plates with wooden crockery. Enquire now for your stress-free event.