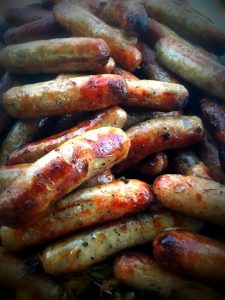 When it comes to summer there are few British traditions more brilliant than the classic barbecue. Grilled meats, cold drinks, good company, all enjoyed under the warm summer shine – certainly a favourite of ours at Hog Roast Camberley. Of course we all know that when it comes to the reality of cobbling together a barbecue event the difficulties of the day instantly seem to become numerous, and there it is a rare occasion than any barbecue goes off without any hitches. Disposable barbecues that won't light or stay hot for long enough; all the barbecues and foods already snapped up from the local supermarket the second the sun comes out; too many chefs hovering around the barbecue trying to put in their input and get the thing working; or finding the right spot where you will be allowed to set up your mini barbecue. It can be a nightmare, despite how much we all love it.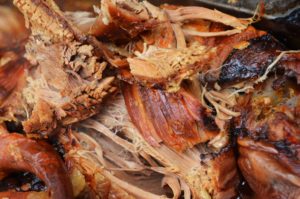 Of course, you could forgo all of those issues and instead guarantee an excellent, no issues, barbecue with the fine folks here at Hog Roast Camberley. Our gourmet barbecue range ensures quality without hassle or difficulty. As professional caterers capable of industrial levels of cooking whipping up a few delicious homemade sausages and burgers is no problem with our versatile mobile hog roasting machines. We can rework these to be perfect barbecue masters allowing us to grill up potentially hundreds of meat and sides at once. From our gourmet range you'll find the classics along with our own BBQ marinated ribs, chicken drums, veg and halloumi skewers, BBQ pulled jackfruit, sweet and regular potato fires, freshly made salads and slaws, and even our namesake hog roast to add in some fresh pulled pork perfect for a roll or wrap to the mix. It doesn't get better in barbecue than this with Hog Roast Camberley.
We'll happily come to your barbecue and take care of everything for you while you simply enjoy great foods in great company and maybe top up your tan too. It's summer after all, so you should be kicking back and enjoying all of that sunshine!