With their twin sons James and Adam's 21st birthday on the horizon, their parents wanted to throw them a special family party to mark the occasion. The problem was though, that they might look identical, but that was where their similarity ended, and they never agreed on anything, especially food! James was a dedicated carnivore, whereas Adam was a vegetarian, and over the years this had caused ructions during family meals and visits to restaurants. This gave their parents a dilemma when it came to the catering for their birthday celebration-how could they find a catering company that could provide food that would please both of them equally? After shopping around to no avail, the perplexed mum and dad were on the verge of giving up, but just in the nick of time, they came across Hog Roast Leatherhead's website and had a eureka moment! They had assumed as many people do, that we would be all about meat, so they were delighted to discover our vast range of imaginative vegetarian options and inventive salads!
With a meaty treat for James and enough meat-free options to make Adam feel special as well, their parents were confident that they had found the perfect solution in Hog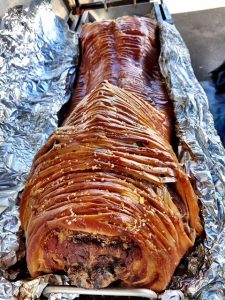 Roast Leatherhead! The troublesome twins were indeed over the moon with what their parents had come up with, and for once they didn't have anything to argue about! James loved the slow-roasted pork and crispy cracking, which he quietly told us was even better than his mum's Sunday dinner, whilst Adam was eagerly tucking into all of our freshly-prepared veggie dishes, happy that we had catered for his needs as well as his brother's. It was really nice for their mum and dad to see them enjoying a meal together, and each other's company! They thanked Hog Roast Leatherhead for making it all happen, and the other 30 family members gathered in the garden had a great time too. They all told us they had never seen the twins eat together so happily or last so long without disagreeing about something! We're glad we gave the boys a birthday to remember and did our bit for brotherly love!