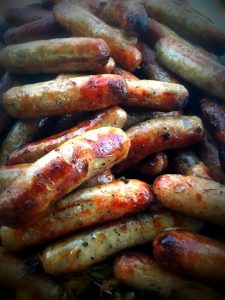 The dining experience should be one of the highlights of your event. It is such a core part to the overall event experience as guests often look forward to it most of all. That puts a lot of weight upon your dining, so to ensure you are best equipped to give guests a dining experience that suitably impressed you need Hog Roast Oxted.
Providing specialist event dining services for all types of occasions in Oxted, Hog Roast Oxted are the caterer to deliver a stylish mealtime experience that your guests will love. We know that dining can really make or break the event experience, so we put our all into creating a real show in our dining. We do this with our namesake hog roast. This is a dish that exemplifies what even dining should be: style, novelty, spectacle, and, above all, great tastes.
Our trademark dish is made in the authentic hog roast cooking style. This is a method of cooking that places a whole pig atop a roaster and very delicately slow roasts it over many hours until it is perfectly crisp and golden. The result is a product that looks just as good as it tastes, with the skin of the pig crisping up nicely for that crunchy roast texturing, while the meat inside retains all its juiciness and comes bursting with plenty of flavour. You'll no doubt have seen the traditional hog roast in tv shows before, but unlike the classic image of the pig tied across two sticks over a fire pit, our modern version is self contained on our own mobile roasters. The process remains the same, and the spectacle is still there, but it is much easier to use for events meaning less hassle and clean up for your event.
A Menu For Every Event With Hog Roast Oxted
When we say we have services for every kind of event in Oxted we mean it. Our variety of menus and services cover weddings, corporate events, or your private events. Those can be formal or informal, indoors or out, buffet style or set course dining. Everything is yours to choose with Hog Roast Oxted.
So, come view our menus and have a chat with the Hog Roast Oxted team today for your next event!