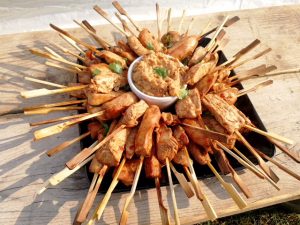 Having a dedicated caterer at events has become very popular in recent years. In the past most might have only expected such high-end catering at events like weddings, but more and more it has become common even for more casual events. Events in Haslemere have been no different, so if you are looking to host your own special occasion in the area any time soon then you should strongly consider hiring in the stylish event catering services of Hog Roast Haslemere.
Known for our namesake hog roast, Hog Roast Haslemere creates exceptional dining experiences for events around town. We look to event dining as an opportunity to really impress guests. For us the dining experience should be as much an event as the rest of the day, and so to achieve that we create a truly unique style of dining that brings out the very best of your event. Not only do we offer the hog roast as a dish, we offer it as an experience too. What that means is that our Hog Roast Haslemere team will cook your roast in the authentic hog roasting style fresh at your event.
This is an incredible culinary method that takes a whole pig and slow roasts it for 4-6 hours over what would traditionally be a fire pit and spit. With our more modern approach using self-contained roasting units, we recreate this immense spectacle for your event without any of the old hassle and set up that would have typically come with such a style of cooking.
It makes for incredible experiences at events, so come get your today with Hog Roast Haslemere today!
Dining In A Range Of Styles With Hog Roast Haslemere
No event is ever the same, nor does it have the same the tastes. That is why Hog Roast Haslemere offers a range of menus and services to suit your occasion. Whether it is formal or informal, indoors or out, we are confident that we can find the right dining to satisfy your tastes. Enjoy a selection of roasts, fresh sides, high-quality grilled foods, and delicious desserts to make up your perfect event feast.
It couldn't be any easier to achieve stylish dining at your next event. Just call or message Hog Roast Haslemere today!