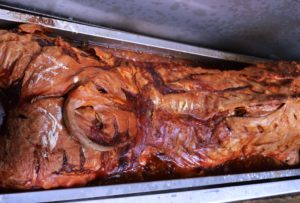 Some types of food are just made to be eaten socially. Hog roasts are a great example of this. Considering that the average hog feeds at least 80 people it really is not a dish you can enjoy every day. This is part of what makes it so special and ideal for a celebration, event or large party.
A range of spit roasted meats and barbecue food in Farnham
Over the past decade, the Hog Roast Farnham team has cooked literally hundreds of spit roasted hogs. We also use our state-of-the-art spit roasters to produce succulent beef, lamb, turkey, suckling pig and other meats.
Our experienced chefs are also very good at cooking barbecued food. They can cook burgers, kebabs, steaks and sausages to perfection, including vegetarian versions of these party favourites.
This can all be accompanied by a range of breads, stuffings, side dishes, desserts and salads. The fact that we are inspired by the cuisines of China, India, Mexico, the UK and several other countries means there is always plenty of choice available. Our chefs are always looking for new dishes to add to our menus, so if you want you can even ask us to cook something a little different.
Beautifully presented party food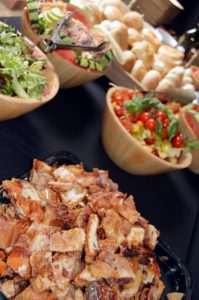 If you want us to cook for your wedding or a large corporate event everything we produce can be plated up and served at the table. We employ experienced waiters and front of house staff that will make sure every single guest gets the food they want.
You can also hire the Hog Roast Farnham team to provide you with a spectacular hot or cold buffet. A full carvery service is also available.
Find out more about our Tasty Hog Roast Catering
We're always available to respond to any questions you may have about our Hog Roast services. No matter whether you're planning a wedding around Farnham, or even a party or a corporate event.
We're sure to be able to provide you with a top notch service. So get in touch today and one of the friendly team will talk you through all of the available options.