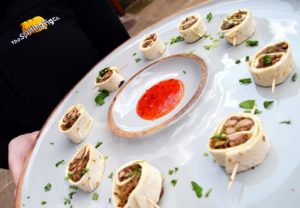 In recent years it has become more and more popular to have professional catering at events. With it being so popular, you won't want your events in Cranleigh to be missing out. Fortunately, you can hire the very best catered service around in Hog Roast Cranleigh's speciality hog roast dining!
At Hog Roast Cranleigh we are all about making events special by imbuing them with unique and stylish dining. This doesn't mean that we'll just be showing up to hand out foods, instead it means we'll be showing up to put on a real culinary show as we provide the authentic hog roast experience to your event. If you have never had or seen a hog roast then prepare to be amazed by one of the best sights (and smells) in dining. The classic style of hog roast cooking puts a whole pig atop a spit to be very slowly roasted over many hours until it is perfectly golden and crispy.
It is a tradition that has been enjoyed at events across the world for centuries, but sadly now is it harder to get in its authentic form. That is because it takes so much time and effort typically that most just ignore its brilliance. At Hog Roast Cranleigh however, we have been able to recreate the authentic hog roast style with a few modern touches, making it easier to cook at any kind of event out on the road without the hassle while still preserving that all important spectacle and taste!
The Better Way To Dine With Hog Roast Cranleigh
Guests have come to have high expectations of event dining, so our massive range of delicious roast meats, barbecued foods, freshly prepared sides and salads, and delicious desserts are going to satisfy those demands and then some. With Hog Roast Cranleigh you can pick from a variety of menus and services to suit your tastes, each bringing something different to ensure every kind of event is served the right way. Be it a wedding, a corporate event or a private party, we are confident in finding the dining you need!
So, simply call today to get started with the best in event catering at Hog Roast Cranleigh!