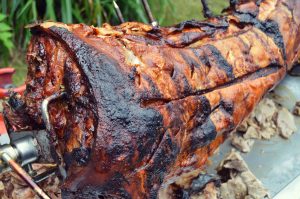 Naturally, when you invite friends and family to your home, for a party, you want to be sure that they are well-fed. Food is an important element of any celebration or event. The last thing you would want is for your wedding, anniversary dinner or corporate event guests to go home feeling hungry.
True party catering professionals in Cobham
At Hog Roast Cobham we know how to make sure that never happens. Our team of professionally trained chefs, waiters and front of house staff always make sure your guests are well taken care of.
It does not matter if you are just having a few close friends and family members around to celebrate a special birthday or have invited hundreds of guests to your wedding we are the catering team you need.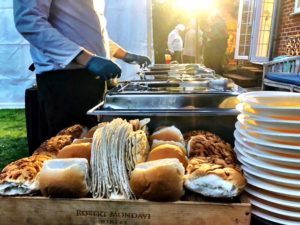 We take a flexible approach to party and event catering. Our chefs can just as easily spit roast you joints of lamb and beef as cook you a whole hog. Practically whatever style of food you need, we can provide it. The spit roast machines that we use can be converted into barbecue grills, so we can offer you that style of food as well.
A great range of other dishes
In addition, the Hog Roast Cobham catering team can prepare a range of finger foods, salads, desserts and much more. Our menus are inspired by all of the major food cultures of the world, which makes it easy for you to find and order dishes that you know your guests will enjoy.
Get in touch today to learn more about our service
We're always available to respond to any questions you may have about our Hog Roast services. No matter whether you're planning a wedding around Cobham, or even a party or a corporate event.
We're sure to be able to provide you with a top notch service. So get in touch today and one of the friendly team will talk you through all of the available options.