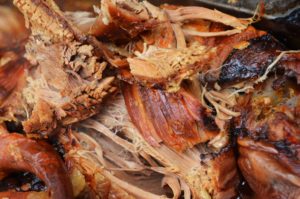 If you are looking for a Hog Roast in Camberley you have found the best option. Over the years, we have provided the food for literally hundreds of parties, community days, weddings and corporate events, so have plenty of experience.
The best party food in the area in Camberley
Our experienced chefs are constantly learning to cook new dishes and style of food. As a result, we are now in a position to offer you the chance to order a range of other spit roasted, or barbecued, meats from us.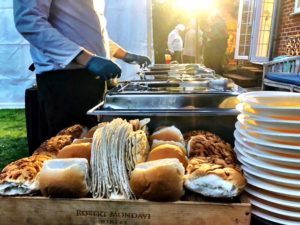 Turkey, beef, whole chickens, suckling pigs, gammons and lamb joints all taste wonderful when they are spit roasted. It is also nice to be able to offer your guest vegetarian burgers, steaks, chops and vegetables cooked on the barbecue. Being able to offer your guests a good range of choices is especially important for big corporate events and weddings. That way you can be sure that all tastes and dietary needs are well catered for.
Our extensive menus include canapés, salads, side dishes, desserts and other foods. Whether your guests enjoy Indian, Chinese, Mexican, British or Mediterranean food they will be happy because there are dishes inspired by those cuisines on our menus.
Tasty food made with the best ingredients
The Hog Roast Camberley team are always careful to use the best ingredients. Working with local butchers, farmers and food producers enables us to provide you with tasty, good-quality dishes that will delight your guests. At the pre-agreed time, everything will be served by our chef or the waiting team that we can provide for more formal sit down celebrations.
Like to learn more about our delicious Hog Roast Catering
We're always available to respond to any questions you may have about our Hog Roast services. No matter whether you're planning a wedding around Camberley, or even a party or a corporate event.
We're sure to be able to provide you with a top notch service. So get in touch today and one of the friendly team will talk you through all of the available options.