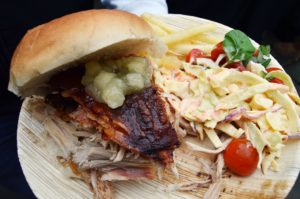 For dining services that are going to impress at your event in Ashtead you need Hog Roast Ashtead. We are an event caterer that specialises in unique and exciting dining solutions for all types of events in Ashtead. Weddings, corporate events, or any private event in between – we do them all.
Cooked in its authentic style, our specialist and namesake hog roast is a dish that exhibits everything you could want in an event dining experience. It has been enjoyed at special occasions and cultural celebrations across the world for centuries, all on account of its excellent ability to create a special atmosphere that screams 'event'.
How it manages that is down to the way in which it cooks. The traditional style of hog roasting would see a whole pig sat over a fire pit, tied between two stakes in the ground. Guests of these events would be able to watch the pig roast over the entire 4-6 hours that it would be up there. It was a special kind of experience that could bring a community together, and the best part is that it was then large enough to feed everyone.
Ours at Hog Roast Ashtead works in much the same way only it looks much more modern with our own designed mobile roasting machines taking the place of the old fire pit. You are still getting the authentic spectacle and experience, only made more efficient and manageable. Your meat will be roasted to perfection fresh at your event and can then be served fresh from the pig for a variety of different dishes.
Bespoke Dining In Ashtead
The hog roast isn't all we do at Hog Roast Ashtead. We know that events come with many different tastes and needs, so our wide range of menus and services are each designed to satisfy every craving. Enjoy our indoor or outdoor dining services how you want with a variety of roast meat dishes, grilled foods, and freshly prepared sides and desserts.
It is your way to dine, made in the Hog Roast Ashtead style. All you have to do to get started is call today!